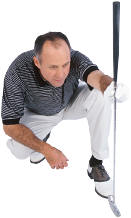 ...natural for any man to want to practice golf. And one of the most difficult things to do in golf is putting! Putting takes a great deal of practice to get right!
BACKYARD PUTTING - You Need A Space
IF you want to effectively practice your putting in the backyard you need to develop a place where all this can happen within reach of your grill yet not in the way of what your wife is doing in her flower garden! In golf, it can be difficult to arrange a tee time that works into your busy life and the cost is often very expensive. However, if you have a backyard putting green, you can practice putting anytime you want.



Personal Backyard Putting Green Is An Investment
I know what you are thinking... who has a putting green in their backyard? Itís almost like Lifestyles of the Rich and Famous... Home Putting Greens are an investment of course, but the fact is that it is an investment in yourself and your property. Itís important to realize that although a backyard putting green will cost you a bit now in the long run youíll be saving money. The backyard putting green will pay for itself in just a few months if you are an avid golfer who visits the local green frequently. Your wife mike like having you around the house more as well! All that money you used to spend on green fees will now be kept securely in your pocket.

The first consideration should be the amount of space you have to work with. You may have somewhat limited space which could lead you to believe that a backyard putting green wonít be suitable in your yard. This isnít necessarily the case as a backyard putting green can be custom designed to fit almost any size or shape of yard.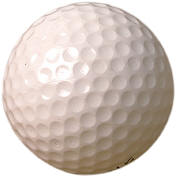 Keep in mind that there are many Backyard putting green kits available on the market to help you set up your green dream. They have the green cups and flag. Shop around the net, there are many that even offer free shipping.
Those residential green kits provide you the steps to building a putting green the way it should be as well. Do It Yourself folks out there can definitely tackle the job.
I LIKE NATURAL GREEN!

It is a matter of preference, but I prefer natural grass over artificial turf. Most use nylon tour turf. Installation is easy too. Which is great, but it feels like putt-putt golf to me... But do your research. One key benefit however to using artificial turf is that the green will roll up and out of the way if you move it. However, you may have a bare spot in your yard if it has been there a while. If you have Bermuda grass in your yard and the material is not particularly resistant, then you might have the grass coming through it.
There are a lot of alternative putting green technologies out there. But for natural greens... just any grass surface won't do. You need proper golf green grass seed suited to the environment you plan to place your green. Also pay attention to the soil below the grass. You need the proper root zone mix. More upkeep with natural grass, but the feel is impeccable and more what you will see on the golf course!

Many homes already have landscaping in the forms of trees and shrubs in place. If you want to change it by installing a backyard putting green, give some thought to having those items moved. If this is done by a professional gardening service there is much less risk of the plants dying. Trying to move them yourself, unless you are experienced could result in disaster.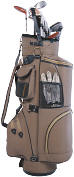 Children, especially toddlers, might mistake the new mini-golf course in the backyard for a personal playground. If you have small children in your home, you may want to invest in a fence to go around the backyard putting green. Personally, I like having my kids play golf with me. We get to bond in a special way. In fact, many families actually have two separate areas in their yards; one for adults in the form of the backyard putting green and then a sandbox or swing set for the children. This keeps everyone happy and if the child has a place all their own to play they will be less interested in the green.

Donít be surprised once itís installed if your friends that love golf happen to drop with their putter often to check out your professional backyard putting surface. Constructing Backyard Putting Greens in your backyard, has a way of attracting the golf loving buddies, and even those who previously never showed interest in golfing. Spending an afternoon on the backyard putting green alone or with family & friends is a great way to visit and pass the time. Of course, it also helps to improve your handicap. Home putting to me can't be beat...except maybe Augusta! LOL!
Back yard putting... a backyard golf course is no longer just for the stars...its for the AVERAGE JOES like you & me as well!